Today FM Presents: Block Rockin Beats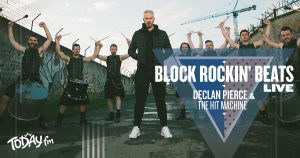 Today FM's Block Rockin Beats with Dec Pierce & Hit Machine Drummers playing classic dance anthems.
Block Rockin Beats live features a setlist of tracks such as Breathe by The Prodigy, and Insomnia by Faithless. However for the live show he has worked with one of the best producers in Ireland to deconstruct these tracks and rebuild them for a performance with a full troop of drummers called 'The Hit Machine' live on stage.
"This show is bursting with energy. It's raw, tribal and jammed with the biggest dance anthems of all time! If you love music, drums, beats, and fancy seeing your favourite dance anthems performed by real tribal drummers, then you will love this show"